Ultimate Template Collection - Enhance Your Creations!
The process of creating a graphic design is a crucial one, as the success of presentations largely depends on it. To captivate and retain the audience, the design must be flawless and distinctive. Our company's professionals specialize in developing contemporary graphic designs, which encompass various types of work.
Professionally Presentation Templates
One of our offerings includes professionally designed PowerPoint templates, Keynote templates, and themes that make it easy and affordable to create an impressive presentation quickly. PowerPoint templates can enhance your presentation and grab the viewers' attention.
To use a template, simply select your desired design and follow the straightforward process of downloading and saving it to your computer. Then, open the templates using Microsoft PowerPoint or Keynote and customize them to your needs by inserting text and selecting images. Your presentation is now ready to go!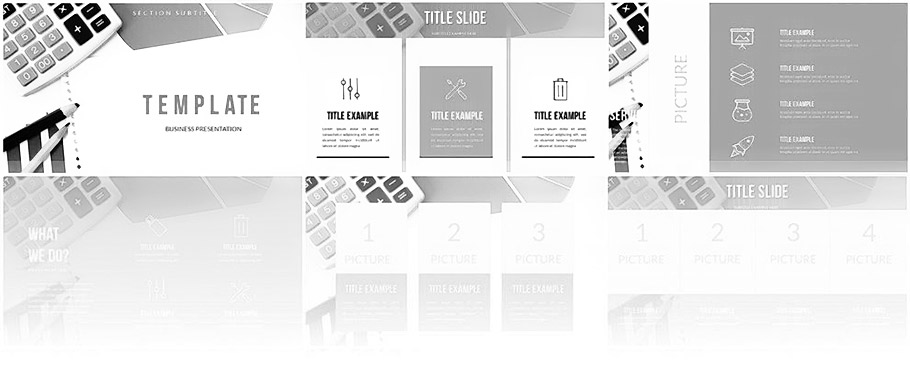 Keynote and PowerPoint templates are pre-designed documents that you can use repeatedly to create other documents. By creating a template that contains unalterable elements, you can quickly make necessary changes to the document later.
We also offer an image of professionally designed templates and themes for presentations.
The entire PowerPoint and Keynote presentation is created using a single corporate style that is developed during the creation of the corporate style. During the process, basic slide templates are established, such as a template for the main presentation page, a sample page template, a column template, a template for displaying works (photo gallery), and a contact data template. By utilizing these similar presentation templates, you can further refine or add pages to the presentation.
The process of creating a Keynote and PowerPoint presentation can be broken down into several stages. Firstly, collect information for the presentation, such as text, initial figures for infographics, and illustrative material. Next, create a structure for the presentation. Then, search for a style (template) for the presentation, including the main page, section headers and footers, slide caps, fonts, and elements. Add infographics, including dynamic charts, tables, graphs, histograms, etc., and finally, add effects to the presentation slides.
We offer high-quality Keynote Templates or Themes that include medium-resolution, royalty-free images, unique shapes, and graphic objects that will help grab attention. They are designed to cater to various industries such as technology, finance, medical, general business, retail, education and training, travel and tourism, religious organizations, sports and fitness, food, and beverages.
Our templates are fully editable, allowing you to change text and fonts, move, resize and change graphic elements as if you had created them from scratch.
Are you tired of creating presentations from scratch? Do you want to save time and impress your audience with visually stunning slides? Look no further than our template collection for Keynote and PowerPoint!
Our collection offers a wide range of templates designed to meet the needs of any presentation. From business pitches to educational lectures, our templates are customizable and easy to use. Here are 10 key features of our template collection:
Professional Design - Our templates are designed by experienced graphic designers, ensuring a professional and polished look for your presentation.
Customizable Layouts - Each template offers multiple layout options, giving you the flexibility to choose the one that best suits your content and message.
Wide Range of Themes - Our templates cover a wide range of themes, from technology and finance to nature and education.
Attention-Grabbing Graphics - Our templates feature attention-grabbing graphics that will help your presentation stand out and engage your audience.
Clear and Legible Fonts - We use clear and legible fonts that make it easy for your audience to read and follow along with your presentation.
Easy-to-Use Interface - Our templates are user-friendly, with an intuitive interface that allows you to customize your slides with ease.
Comprehensive Help Documentation - Each template comes with comprehensive help documentation, making it easy for you to get started and customize your presentation.
Compatible with Keynote and PowerPoint - Our templates are compatible with both Keynote and PowerPoint, ensuring that you can use them no matter which platform you prefer.
High-Quality Images - Our templates feature high-quality images that are sure to impress your audience and make your presentation visually appealing.
Responsive Support - If you encounter any issues or have any questions, our support team is here to help. We pride ourselves on providing responsive and helpful support to our customers.
In conclusion, our template collection for Keynote and PowerPoint is a must-have for anyone who wants to save time and create visually stunning presentations. With customizable layouts, attention-grabbing graphics, and clear fonts, our templates are sure to impress your audience and make your presentations stand out. So why wait? Check out our collection today and take your presentations to the next level!
Built-In Slide Masters
When it comes to creating large presentations, having a template with flexibility can make all the difference. No matter what your PowerPoint content layout is, our templates come with a matching background.
Built-In Contemporary Color Schemes
Each template has a unique color palette for graphics that you can adjust according to your needs. For instance, when you edit the color, the entire design will automatically switch to the new color scheme.
Printable Slides
All templates come with a print slide that can be used if needed.
Online Access Anytime, Anywhere
You can access our library of design templates from any browser on your computer at any time and anywhere. The templates are stored in your user account and can be downloaded immediately after purchase and re-downloaded at any time.
Diagrams & Charts Features
If you need to create reports or business presentations, we can help you with our pre-designed PowerPoint and Keynote charts, diagrams, and illustrations that are much more effective than using only text and tables. These visuals have been carefully prepared so that you can easily customize them to fit your content.
We make sure to present numerical data, graphs, diagrams, and tables in a clear and user-friendly format. That's why we create thematic infographics in a specific presentation style, which has become increasingly popular as the best way to present any type of numerical data.
Our diagrams and illustrations are also highly customizable, with options to adjust size, and color, and add special effects. This allows you to make changes during your presentation if necessary. To work with our visuals, simply download our templates and copy the slides or graphics to enrich your presentation with new images.
Our charts, graphs, and diagrams are optimized to fit perfectly into your slides and can be used in PowerPoint, Google Slides, and Keynote.
Microsoft Word Templates Features
Microsoft Word is a versatile word-processing software that offers many features to help you create professional-looking documents. With its customizable templates, you can easily create a variety of documents, such as resumes, business cards, invoices, and more. In this article, we will discuss some of the top features of Microsoft Word templates that make them so popular among users.
Easy to Use
One of the most significant advantages of Microsoft Word templates is that they are incredibly easy to use. With just a few clicks, you can create a professional-looking document that suits your needs. These templates come with pre-designed layouts and formatting that can save you time and effort, especially if you need to create multiple documents.
Customizable
Another great feature of Microsoft Word templates is that they are customizable. You can modify the font, color scheme, and other design elements to create a personalized look that suits your needs. You can also add or remove sections to fit the content of your document.
Wide Range of Templates
Microsoft Word offers a vast collection of templates that cater to various needs. Whether you need a resume template, a business letter, a brochure, or an invoice, you can find a suitable template that meets your requirements. You can also browse through the different categories to find templates that match your industry or profession.
Time-Saving
Using Microsoft Word templates can save you a significant amount of time, especially if you need to create similar documents frequently. With pre-designed layouts and formatting, you can create documents quickly and easily without starting from scratch. This feature is particularly useful for businesses that need to create multiple documents for their clients.
Consistency
Another advantage of using Microsoft Word templates is that they ensure consistency in your documents. With the pre-designed formatting and layout, you can ensure that all your documents have the same look and feel, which can help you build a professional brand image.
Accessibility
Microsoft Word templates are easily accessible and available online. You can download them from the Microsoft website or browse through the different categories in the template library. This feature is particularly useful for individuals or businesses that need to create documents quickly and don't have the time or resources to design them from scratch.
Cost-Effective
Using Microsoft Word templates is cost-effective as they are available for free or at a minimal cost. This feature is particularly useful for small businesses or individuals who want to create professional-looking documents but don't have the budget to hire a professional designer.
In conclusion, Microsoft Word templates offer many advantages that make them popular among users. They are easy to use, customizable, time-saving, and cost-effective. With a wide range of templates available, you can create professional-looking documents quickly and easily without starting from scratch. So, next time you need to create a document, consider using Microsoft Word templates to save time and effort.
Brochure Templates Features
Brochures are an important tool for businesses to promote their products, services, or events. They can be used for a variety of purposes, such as advertising a new product, showcasing an event, or providing information about a service. A well-designed brochure can effectively communicate your message to your target audience and help you achieve your marketing goals. One of the key elements of a successful brochure is its design, and using a brochure template can help ensure that your design is effective and professional. In this article, we will explore some of the key features of brochure templates.
Layout: One of the most important features of a brochure template is its layout. A good layout is visually appealing, easy to read, and guides the reader through the content. A well-designed brochure template will have a balanced layout that makes good use of space and includes clear headings, subheadings, and images.
Color Scheme: The color scheme is another important feature of a brochure template. The colors you choose should be consistent with your branding and help to create a cohesive and memorable look. A good brochure template will include a color scheme that complements the design and helps to enhance the overall look and feel of the brochure.
Typography: Typography plays a critical role in the readability of a brochure. A good brochure template will include a selection of fonts that are easy to read and complement the overall design. The fonts should be chosen carefully to ensure that they are appropriate for the purpose of the brochure and the target audience.
Images: Images are an important element of a brochure as they help to convey your message and engage your audience. A good brochure template will include high-quality images that are relevant to the content and complement the design. The images should be chosen carefully to ensure that they are appropriate for the target audience and the purpose of the brochure.
Call to Action: The call to action is an important element of any marketing material, including brochures. A good brochure template will include a clear and compelling call to action that encourages the reader to take the desired action, such as visiting a website or making a purchase.
Printability: Finally, a good brochure template should be designed with printability in mind. The template should be set up in the correct size and resolution for printing and include bleed and trim marks to ensure that the final printed brochure looks professional.
In conclusion, a well-designed brochure can be an effective marketing tool for businesses of all sizes. By using a brochure template, you can ensure that your brochure has a professional and consistent look and feel. When choosing a brochure template, be sure to consider the layout, color scheme, typography, images, call to action, and printability to ensure that your brochure is effective and achieves your marketing goals.