Template Features
Creating a graphic design is a responsible process, on which the success of presentations directly depends. In order to attract and retain visitors, the design should be unique and flawless. Specialists of our company create modern graphic design, which includes certain types of work.
Professionally Presentation Templates
Professionally designed PowerPoint templates , Keynote templates and Themes make it easy to create great presentation at an affordable price and quickly. PowerPoint templates will decorate your presentation, which will attract the attention of viewers.
Downloading a template for use is pretty simple. Simply select the design of your choice, and you'll be guided through the simple process of downloading and saving it to your computer. Next, open the templates, as usual, using Microsoft PowerPoint or Keynote, and customize them to suit your needs. You only need to enter text, and select the image you want and the presentation is ready to work!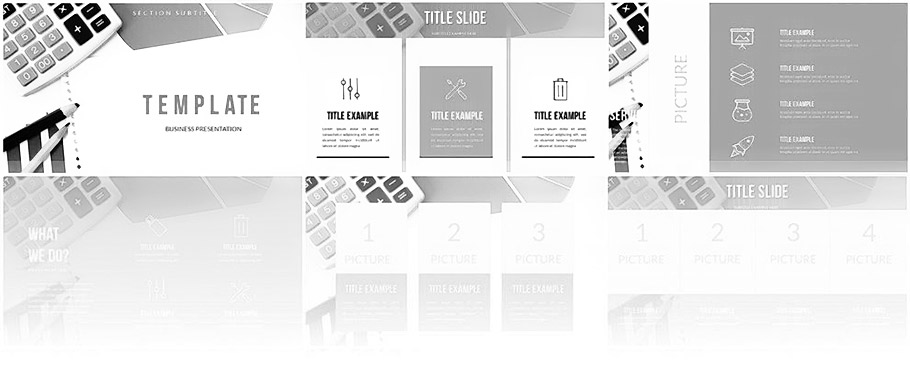 Keynote and PowerPoint templates are documents that have been created once, and then you can use them to create other documents. By creating a template containing an unalterable part of the document, you can later only make the necessary changes to the document.
34 Predesigned PowerPoint Slides with Charts and Diagrams:
3 Masters (Title, Slide, and Print) + 34 additional slides with charts and diagrams for Signing PowerPoint and Keynote Template
The whole PowerPoint and Keynote presentation is collected in a single corporate style, developed when creating a corporate style. In the process of work, basic slide templates are created: a slide template for the main presentation page, a template for a sample page, a template for a column, a template for examples of works (photo gallery), and a contact data template. Using similar presentation templates, you will be able to further refine or add pages to the presentation.
The work on creating a Keynote and PowerPoint presentation can be divided into several stages:
Collect information for presentation (texts, initial figures for infographic, illustrative material).
Creating a presentation structure.
Search style (template) for presentation (main page, section, fonts, elements, headers and footers, slide cap, etc.)
Adding infographics (dynamic charts, tables, graphs, histograms)
Add effects to the presentation slides.
Sample quality templates
Keynote Templates or Themes include high-quality medium-resolution, royalty-free images, unique shapes, and graphic objects, which will help attract attention.
Designed to meet various businesses in various industry categories such as technology, financial, medical, general business, retail, education and training, travel and tourism, religious organizations, sports, and fitness, and food and beverages.
Editable templates
Fully designed templates can be edited as if you created them from scratch. Change text and fonts. Move, resize and change graphic elements.
In-Built Slide Masters
Some presentations can be huge and having a template with flexibility makes all the difference. No matter what your PowerPoint content layout, our templates come with a background to match.
In-Built Contemporary Color Schemes
The color palette is uniquely defined for each template and graphics that you can adjust according to actual demand. For example, once you editable the color, the entire pattern will automatically switch to the new color scheme.
Print Slides
All templates come with the press slide, if necessary, which can be printed.
Online access anytime, anywhere
Access to library design template at any time, anywhere from a browser on your computer. Templates are stored in the user account and can be downloaded immediately after purchase and re-downloaded at any time.
System requirements
All templates are compatible with:
PC: Microsoft PowerPoint, OpenOffice, Google Slides.
MAC: Keynote and Microsoft PowerPoint
Diagrams & Charts Features
For your reports and business presentations, we offer PowerPoint and Keynote charts, diagrams, and useful illustrations that are more promising than text and tables. Our charts have been predesigned and prepared so that you can quickly adapt to your texts.
When creating presentations, we try to present numerical data, graphs, diagrams, and tables in a convenient and understandable form for this purpose a special thematic infographic in a specific presentation style is drawn. The development of infographics is the most convenient graphical way of presenting information, this method has recently gained popularity and is considered the most convenient for the perception of any numerical data.
The peculiarity of diagrams and other illustrations is the ability to change the size, and color and add special effects. Such opportunities are always necessary if you have experienced changes during the presentation. What is necessary for working with diagrams? You need to download our templates and copy the slides or graphics with your own presentation to enrich it with new images.
All charts are ideally optimized on slides so that they can become part of your presentation. Our charts, graphs, and diagrams can be used: PowerPoint, Google Slides, and Keynote
Microsoft Word Templates Features
Ready-to-use Microsoft Word templates that contain high-quality layouts, backgrounds, and illustrations. After downloading the template, you need to edit (add your own text). These Word templates will make it easy for you to create unique personalized and professional Word documents.
Word template package includes:
Thematic design with developed for 3 types of pages in DOTX files: the document title page and two internal pages
Built-in title and text styles
Illustrations and logos
Word Templates are so easy to edit that you do not need to worry. Just add your text and you will already have the original document. The main feature of the Word template is compatibility with Google Docs, Mac, and Windows
Brochure Templates Features
The team of designers created templates for printing. For example, the brochure template simplifies and speeds up the creation of a thematic brochure. Such templates can be used, for both beginners and professionals. On the site you will find a collection of templates for printing: brochures, business cards, leaflets, letterheads, mailings, and postcards.